2 Reasons to Go Digital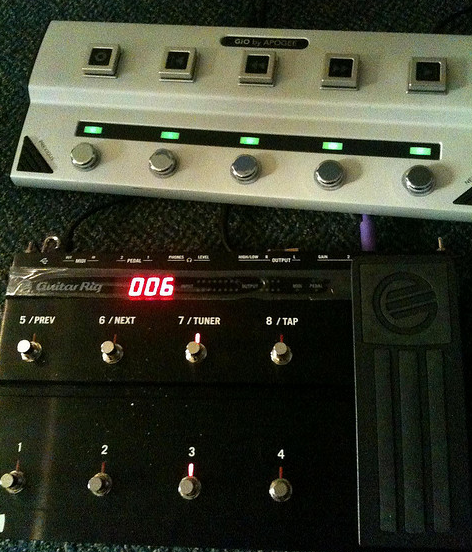 Some musicians wonder why anyone would move away from boutique amps, tube tone, and physical pedals to a world filled with 1's and 0's. Here are two good reasons to take the plunge:
1. Travel Lighter
One of the promises of a digital rig is traveling lighter. You can essentially ditch your heavy amp and pedal board and replace them with a laptop. But if you go that route, consider the following: A laptop rig requires line-of-site to the computer screen, making it difficult to know where to place your laptop on-stage. You'll need to think through the logistics of an audio interface and perhaps a midi foot controller, and all that gear adds up. But you will travel much lighter than with conventional rigs.
2. Custom Settings
I've been using Main Stage 2 (screen shot shown here). MS2 provides multiple ins/outs, multiple plugins, and several pedal/amp configurations at the flip of a switch. I've been using an electric guitar plugin called Guitar Rig 4. As you feel more comfortable with the GUI you can design your own screen layouts to suit your live performance needs. Each song can be saved as an individual patch. This means you can pre-determine tempos, delays, reverbs, modulations, tones, etc. Rather than tap dancing on your pedal board during your live performances you simply advance to the next patch. Having these saved settings can additionally speed up sound check times.
Final Verdict
So what's the verdict? I think it's mixed. When it comes to tone, most digital gear I've played through is definitely good enough to replace my analogue gear. It sounds great live or in the studio. You'll have to put some serious time into the software to get the right sounds to come out of your laptop. However you'll have the freedom of trying various pedals and amps usually at a fraction of the cost of boutique analogue gear.
I will say however as the front man, the laptop/pedal rig has been really tough to use live. Most of the time the footprint of a pedal board and laptop ends up being too much gear for front-center stage. Additionally, I find a dissonance clicking a foot controller and then having to look to a computer screen for visual feedback regarding what has changed in my settings. In split-second live situations this additional visual feedback takes too much time. I'm finding Line6 gear to be the better digital choice for stage. Boards like the Line6 X3 Live have pulled together the best of both analogue and digital worlds into one box.